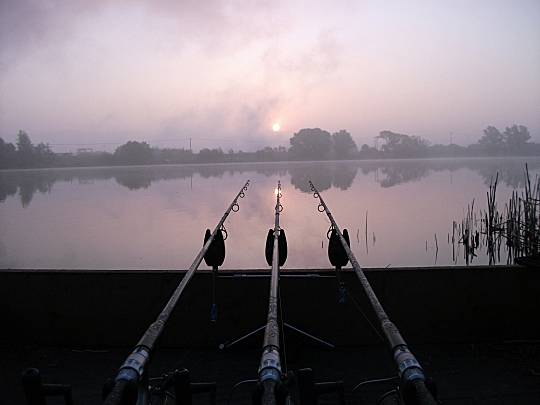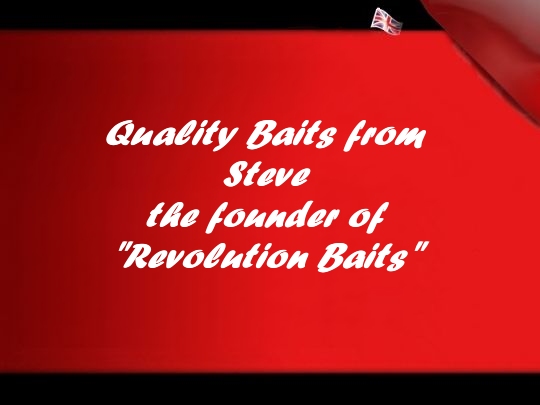 A NEW BAIT FOR 2014
Now available from Revolution Baits The SQUILL.
A unique fishmeal based bait with a totally new liquid feed trigger combined with Krill makes this another awesome bait. Tested throughout 2013 on some of the countries most prestigious waters it will be a sure fire carp catcher! Available in all the usual sizes and a full range of extras compliments this bait.
TWO NEW BOILIES FOR 2013
This year is gonna be a good year.......
Some have said "This 'is' the best boilie I have ever used" when speaking about the Revolution Enzyme.
Well now 'Maybe' it HAS arrived..
Will this leave the Revolution Enzyme in the starting blocks?
Only time will tell, but we can tell you one thing........it's gonna be good seeing if it does!!
Get the fanfares at the ready, the BNC has arrived.
AND ... not only the BNC, but a second new boilie...THE TRUFFLE...
BE ONE OF THE FIRST TO USE THESE ADVANCED FORMULA BOILIES... VISIT THE "SHOP" ABOVE FOR FULL DETAILS!
---
---
LATEST REPORT - 30 th APRIL 2014
With the introduction of the SKRILL (New bait for 2014) the catches are just getting better and better. Revolution Enzyme & the BNC are still out there smashing waters this side of the channel and in France. So far catches have been fantastic and it looks like this year will be a good one, unlike the washout spring/summer of 2013!
We have some new members of the bait team this year, all of whom consistantly catch, only now they will catch even more! Tom Stirman, Jof Everett & Mark Brett wil out catching all year along with the other members of Team Rev. Only last week they went out to France and absolutely annihilated their chosen water with 3 x PB's all caught using our awesome BNC. Check out our fish pictures in the Albums on the homepage..
More reports to follow....
---
END OF YEAR REPORT - 31st December 2013
2013 was in our opinion a poor year fishing wise. People moved on to harder waters, some hardly fished at all, others more or less gave up, some fished press ban waters and some decided to fish far less superior baits!
We ran no competitions this year but in 2014 you might be pleased to hear that they're coming back.
Emphasis is on pictures, good quality, un-edited scaley ones in particular.
The more pics you send in, in here or on SMA Facebook page (include tags) the more chance you have of winning!
All prizes will be bait packages, worth to you a fair amount of £'s!!
More details will follow soon, prizes will not include shipping costs.
Remember we have a complete range of bait and extras to match.
BNC
EVOLUTION
SS
REVOLUTION ENZYME
FRUIT & NUT
TRUFFLE
SKRILL (New for 2014)
---
FRANCE - UPDATE - 11th August 2013
Well it's great news to hear that a group of 5 lads went to France and gave their chosen water a right kicking!
With some slow conditions over the last few weeks these lads turned it all around.
Armed with BNC and Revolution Enzyme they landed 170 fish for a total weight of 3750lb's.
Well done lads...
---
FRANCE - 8th August 2013
Just received a txt from 5 lads in France. BNC & Rev Enzyme + particle doing the biz.
101 fish for the week so far!!
Who needs a gym!!
---
KEVIN FULLER - USING THE BNC - 29th June 2013
Report from Kevin Fuller:
BNC is wicked!
I had 19 fish in 4 trips; biggest 20lb smallest 10lb.
But the best bit is one trip there was 15 other people fishing!
One guy had one and I had five!!!
He wasn't happy lol.
---
DAVID ARNOLDS TRIP TO FRANCE - 2nd June 2013
Davids report on his first french trip:
For me my first ever French trip was eagerly awaited and we duly left for France on the evening of Friday 24th May travelling overnight on the ferry from Portsmouth to St Malo.
Following morning after an hour and a half drive we arrived at the lake which looked to be everything I had dared hope for, magnificent does not do it real justice. A beautiful
English estate type water of 20 acres with 12 swims.
Had previously picked up: 5 kilo of BNC, glug, Pop Ups, wafters and this along with another 5 kilo of Enzyme was my intended bait for the coming week.
... Got set up by about 5.30pm and was ready to have a bit of a cast around to find a couple of spots.
Chose to cast into some sparse weed using BNC popped up about 4" with about 30 bottom baits put out with the throwing stick.
2 hours later a PB common at 46lb 08oz, what a start!
Had a further 3 fish between Sunday and Wednesday, a 28lb 04oz mirror, a 32lb mirror and a 37lb mirror.
Then Thursday morning had the jewel in the crown, as at 5am, I was lucky enough to make contact with and land a 53lb mirror.
Lost another big fish that I never got to see having played it for around 20 minutes.
All on Revolution baits, so thanks Rev.
---
TEAM REVOLUTION BEAT UP ELPHICS NORTH LAKE - 8th May 2013
"Team Revolution" fished "Elphics North Lake, Kent" last week for 4 nights. All bait used was supplied by Revolution baits.
The average fish weight was over 30lbs.
List as follows (Weight/Revolution bait used):
Wayne: UK PB 53lb 13oz mirror (BNC), 36lb 10oz mirror (BNC), 26lb mirror (BNC), 22lb grassy (BNC), 24lb mirror (BNC).
Mark: 21lb grassy (BNC), 25lb 08oz mirror (BNC), 29lb 08 mirror (BNC), 33lb 04oz mirror (BNC), 36lb 08oz mirror (BNC).
Darren: 26lb 02oz common (Revolution SS), 20lb cat (Revolution SS).
Chris: 32lb 02oz mirror (BNC).
Nick: UK PB 44lb 11oz mirror (BNC), 27lb 13oz mirror (BNC).
Gary: 28lb 08oz common (Revolution Enzyme), 31lb 12oz mirror (Revolution Enzyme), 33lb 02oz mirror (Revolution SS), 34lb 12oz mirror (Revolution SS).
Sam: 36lb 08oz mirror (Revolution Enzyme), 31lb 10oz common (BNC), 29lb 04oz mirror (Revolution Enzyme).
Kieron: 23lb 01oz mirror (Revolution Enzyme), 31lb 10oz mirror (Revolution Enzyme).
Photos of fish are available for viewing in the photo albums.
---
Tom Stirman's 4 day trip to Castaway Lake, Limoges, France between 23/03/2013 and 27/03/2013.
"After the first few hours of fishing, Revolution Baits BNC (Butternut cream) bait was beating up the others that some had taken with them."
A four night session of a lifetime produced a total of 36 fish for Tom. This figure would have been higher but for the few that were lost and the ones he had to surrender to a friend due to double runs. All of the Carp caught using BNC pop ups. Catfish caught using Revolution snowman white topper. See Notable catches 2013 under "View Photo Albums"
Quote from Tom: "A very cold central France; temperature minus 4 on the last night. Thanks again for such a great bait."
---
View all "Catch Reports" Here.
---
A "quality bait" will not make a bad angler a good angler, but it will vastly improve his chances of catching fish.
JOIN THE REVOLUTION......
Viva la Revolution.....